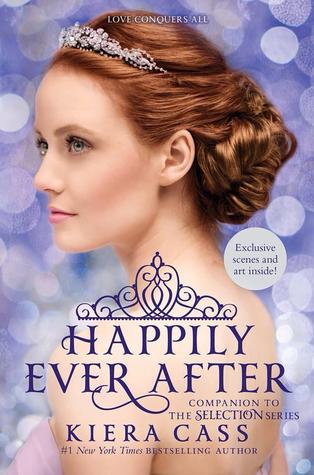 Auteur: Kiera Cass
Pagina's: 387
Genre: Young Adult, Dystopia, Romance
Publicatie: Harper Collins, oktober 2015
ISBN: 9780062414090
Rating:

America's story wasn't the only one with a happy ending…
Before Amberly came to the palace, she was a Four in love with a One.
Before Maxon met the girl of his dreams, he was the boy of someone else's.
Before Aspen opened his heart to someone new, he was determined to fight for his first love.
And before Marlee could fall for a prince, she was swept off her feet by a guard. (Beschrijving achterkant)
Omdat ik verwacht elk moment The Crown binnen te krijgen, besloot ik dat dit een goed moment was om Happily Ever After te gaan lezen, om zo weer even in de mood van deze serie te komen. Toen ik dit boek van Sinterklaas kreeg, heb ik hem in eerste instantie even laten liggen. Ik had namelijk The Prince & The Guard (die Daphne ook gerecenseerd heeft) en De Koningin & De Favoriet allemaal al eens gelezen.
Dit boek bevat alle vier de novella's van De Selection-serie: The Queen, The Prince, The Guard, en The Favorite. Naast de vier novella's zijn er nog verschillende hoofdstukken met allemaal bonusmateriaal: onder andere een hoofdstuk over Celeste en wat er met de elite gebeurd is na de gebeurtenissen van The One. Wat ik zo fijn vind aan de boeken van Kiera Cass is dat ik ze altijd met een gelukkig gevoel weer dicht doe.
Hoewel ik dat gelukkige gevoel tijdens het lezen van de eerste vier novella's ook wel had, zwakte dat een beetje af toen ik bij het bonusmateriaal kwam. Het extra bonusmateriaal was juist de reden dat ik dit boek nog speciaal wilde hebben, ondanks dat ik The Prince & The Guard en De Koningin & De Favoriet al heb, maar om eerlijk te zijn vond ik het een beetje tegenvallen. Er stond nog zo veel in dat het een beetje aanvoelde als too much. Ik was er op een gegeven moment eigenlijk wel weer een beetje klaar mee. De illustraties in het boek waren echter wel heel erg mooi en deze vond ik dan ook echt een goede toevoeging.
Ik had het dus zelf eigenlijk ook wel prima gevonden als er minder bonusmateriaal bij had gezeten, maar al met al was dit boek zeker de moeite waard en wist het me weer terug in de sprookjessferen te brengen. Ik kan niet wachten om te beginnen in The Crown!
Heb jij Happily Ever After al in huis?
Liefs,
[bol_product_links block_id="bol_574355f892053_selected-products" products="9200000041223201,9200000040961017″ name="Happily Ever After" sub_id="" link_color="003399″ subtitle_color="000000″ pricetype_color="000000″ price_color="CC3300″ deliverytime_color="009900″ background_color="FFFFFF" border_color="D2D2D2″ width="250″ cols="1″ show_bol_logo="undefined" show_price="1″ show_rating="1″ show_deliverytime="1″ link_target="1″ image_size="1″ admin_preview="1″]