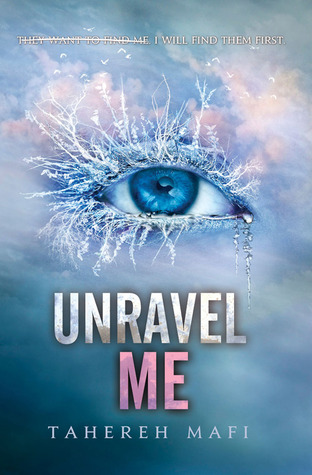 Auteur: Tahereh Mafi
Pagina's:461
Genre: Young Adult, Dystopian, Fantasy
Publicatie: Harper Collins, februari 2013
Rating:

Jullette has escaped from The Reestablishment. Now she's free from their plan to use her as a weapon, and free to love Adam. But Juliette will never be free from her lethal touch. Or from Warner, who wants Juliette more than she ever thought possible. Haunted by her past and terrified of her future, Juliette knows she will have to make some life-changing choices. Choices that may involve choosing between her heart – and Adam's life. (beschrijving achterflap)
Na het lezen van Shatter Me was ik zó blij. Hoewel ik veel goede boeken heb gelezen in het afgelopen jaar, was Shatter Me er wel een die er voor mij echt boven uit stak, en zo'n boek had ik gewoon even nodig. Ik heb van deel één zo genoten dat ik meteen deel twee besteld heb, en dat doe ik de laatste tijd niet meer zomaar.
Een van de dingen die mij het meest opviel dit vervolg was de ontwikkeling die Juliette doormaakt. Je merkt heel duidelijk dat ze langzaam maar zeker een ander persoon aan het worden is dan het zielige, bange meisje wat ze in het eerste boek was. Dat vind ik leuk. Dit komt niet alleen naar voren door de verandering in haar gedachtegang, maar ook door het feit dat ze andere beslissingen neemt en dingen doet die ze eerst niet zou doen. Tahereh Mafi laat deze verandering ook terugkomen in de schrijfstijl: in het eerste deel zaten heel veel doorgestreepte zinnen, en die zijn in dit boek al veel minder aanwezig.
Deze ontwikkeling was voor mij een van de geweldigste dingen aan dit boek, maar zeker niet de enige! Ik heb wederom van Mafi's schrijfstijl en mooie metaforen genoten, en ook van de andere personages in dit boek die je nu eindelijk beter leert kennen. Ik vond het daarom ook helemaal niet leuk dat het uit was, al zet het einde van dit boek al duidelijk de toon voor het volgende deel.
En dat haat ik, echt. Er komen namelijk zo veel vragen omhoog in dit boek en ik wil NU de antwoorden daarop weten! Ik vond dit een fantastisch vervolg op Shatter Me, en als jullie mij nu willen excuseren dan verdwijn ik even in een hoekje met het volgende deel..
Liefs,
PS: Dit boek is ook in het Nederlands verkrijgbaar bij Blossom Books! De Nederlandse titel is 'Breek Me'.