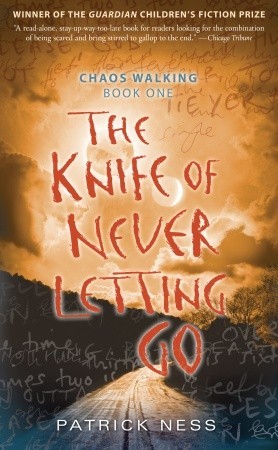 Auteur: Patrick Ness
Pagina's: 479
Genre: Young Adult, Science Fiction, Fantasy
Publicatie: Candlewick Press, juli 2009
Rating:

Todd Hewitt is the only boy in a town of men. Ever since the settlers were infected with the Noise germ, Todd can hear everything the men think, and they hear everything he thinks. Todd is just a month away from becoming a man, but in the midst of the cacophony, he knows that the town is hiding something from him — something so awful Todd is forced to flee with only his dog, whose simple, loyal voice he hears too. With hostile men from the town in pursuit, the two stumble upon a strange and eerily silent creature: a girl. Who is she? Why wasn't she killed by the germ like all the females on New World? Propelled by Todd's gritty narration, readers are in for a white-knuckle journey in which a boy on the cusp of manhood must unlearn everything he knows in order to figure out who he truly is. (Beschrijving Goodreads.com)
Ik heb ontzettend lang over dit boek gedaan. Niet omdat het verhaal me niet aansprak of omdat ik het saai vond. Nee, ik kwam in een 'dystopische leesdip' terecht. Wat betekent dat ik het even helemaal had gehad met fictieve werelden en ik een oude vertrouwde thriller of chick-lit wilde lezen. Ik strandde op pagina 214 en in die tussentijd heb ik twee andere boeken gelezen. Niet echt een goed teken dus, zou je denken.
Het boek volgt Todd, een wees en de laatste nog niet volwassen jongen van het stadje waar hij woont: Prentisstown. Het stadje bevindt zich op de planeet New World. Op deze planeet wilden de mensheid een nieuw leven beginnen toen duidelijk werd dat de aarde was vernield. De komst van de mensheid viel alleen niet goed bij de, destijds huidige, bewoners van Prentisstown: de aliëns oftewel de Spackle. Het gevolg was een oorlog waarbij alle vrouwen werden uitgemoord met ziektekiemen. Deze ziektekiemen hebben ervoor gezorgd dat alle mannen die overbleven elkaars gedachten kunnen horen, ook wel de Noise genoemd.
Als Todd op een dag een wandeling maakt met zijn trouwe viervoeter Manchee, komt hij een stille plek tegen. Volgens Ben en Cillian (de personen waardoor Todd wordt opgevoed) is het niet te vertrouwen. Todd moet zo snel mogelijk weg van het stadje en rennen voor zijn leven.
Het verhaal pakte me meteen, het was spannend, uniek en puur. Hetgeen waar ik over struikelde was de schrijfstijl. Todd heeft nooit leren schrijven en juist omdat je vanuit zijn perspectief leest, heeft Patrick Ness daarmee gespeeld. Er zijn expres spelfouten gemaakt en sommige zinnen lopen niet lekker. Voor mij was dit soms simpelweg irritant. Uniek, maar irritant.
Toen ik er eenmaal aan gewend was en ik me helemaal op het verhaal kon focussen, kon ik het boek niet meer wegleggen. De spanning is op elke bladzijde te voelen en aan actie is er geen gebrek. De karakters die je tegenkomt in het boek zijn allemaal, één voor één, een toevoeging aan het boek. Je wilt veel meer over ze te weten komen, zeker omdat je het gevoel krijgt dat niemand te vertrouwen is.
Het boek heeft dus een moeizame start, maar wordt gelukkig veel en veel beter als je eenmaal gewend bent aan de bijzondere en speelse schrijfstijl van Ness.
Heb jij The Knife of Never Letting Go al gelezen? Wat vond jij van het boek?
Liefs,
[bol_product_links block_id="bol_568a81e8d69e5_selected-products" products="9200000026138738,9200000033307687″ name="The Knife of never letting go" sub_id="" link_color="003399″ subtitle_color="000000″ pricetype_color="000000″ price_color="CC3300″ deliverytime_color="009900″ background_color="FFFFFF" border_color="D2D2D2″ width="250″ cols="1″ show_bol_logo="undefined" show_price="1″ show_rating="1″ show_deliverytime="1″ link_target="1″ image_size="1″ admin_preview="1″]