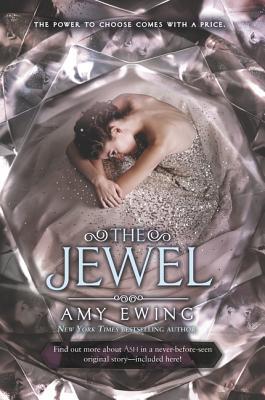 Auteur: Amy Ewing
Pagina's: 358
Genre: Young Adult, Dystopia, Fantasy
Publicatie: HarperTeen, september 2015
ISBN: 9780062235787
Rating:

The Jewel means wealth.
The Jewel means beauty.
The Jewel means royalty.
But for girls like Violet, the Jewel means servitude.
Violet, born and raised in the Marsh, has been trained to work for the royalty. But after she is bought at the Auction, she quickly learns the brutal and violent truths that lie beneath the Jewel's glittering facade.
Violet must try to stay alive, and when an unlikely friendship offers her an opportunity, she clings to the hope of a better life – until a forbidden romance changes everything. Suddenly, Violet finds herself in a different kind of danger, one that may cost her more than she bargained for. (Beschrijving achterkant)
Toen ik voor het eerst over dit boek hoorde, werd er gezegd dat dit een boek was voor liefhebbers van The Selection van Kiera Cass en Wither van Lauren Destefano. Dat zijn twee van mijn favoriete boeken, dus ik was meteen ook heel nieuwsgierig naar dit boek. Na de tekst op de achterkant gelezen te hebben vond ik dat het echt klonk als een boek voor mij, dus ik begon er met hoge verwachtingen aan.
Op de eerste pagina wordt er duidelijk uitgelegd hoe de verhaalwereld en de monarchie in elkaar zit aan de hand van een kaart en een lijst met de belangrijke karakters. Dat vind ik zelf prettig, omdat je dan tijdens het lezen al een beetje beter snapt hoe alles in elkaar steekt. Tijdens het lezen van de eerste paar hoofdstukken bleef het mij echter opvallen hoeveel clichés van een dystopie er in dit boek voorkomen. Wereld wordt geregeerd door een stel rijke snobs terwijl hun burgers in armoede leven. Een meisje uit een arm gebied blijkt speciaal te zijn waardoor ze voor hun aan het werk wordt gezet, en dat meisje probeert vervolgens het gezag te ondermijnen. Heard it before, right? Dus eigenlijk stond ik na de eerste paar hoofdstukken al helemaal klaar om dit boek flink af te gaan kraken.
Maar naarmate ik verder las veranderde ik steeds meer van gedachten. Hoewel dit boek vol zit met clichés, vond ik het toch wel heel erg leuk om te lezen. Nu moet ik daar wel bij zeggen dat er veel dingen in het verhaal zetten die voor mij nog onduidelijk waren en dat er een aantal plotselinge wendingen inzaten die niet helemaal natuurlijk aanvoelden.
Gelukkig maakt Amy Ewing's fijne schrijfstijl heel veel goed. Ze weet dingen zo fijn gedetailleerd en levendig te beschrijven dat ik echt helemaal opging in het verhaal en er eigenlijk ook zo doorheen vloog. Ik denk dat wat ze zeggen wel ongeveer klopt: als je The Selection en Wither leuk vind, is er een grote kans dat dit ook wel een boek voor jou is. Het is alleen, net als Wither, wat duisterder dan The Selection, dus niet zo sprookjesachtig als de cover misschien zou doen denken.
Ik vind The Jewel – ondanks de clichés en de onduidelijkheden – een heerlijk boek. Het is lang geleden dat ik een boek zo snel uit had als deze en ik heb om die reden ook tussen mijn favorieten gezet!
Liefs,