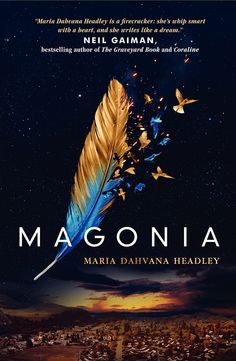 Auteur: Maria Dahvana Headley
Pagina's: 309
Genre: Young Adult, Fantasy
Publicatie: HarperCollins, april 2015
ISBN: 9780062391674
Rating:

Aza Ray is drowning in thin air.
Since she was a baby, Aza has suffered from a mysterious lung disease that makes it ever harder for her to breathe, to speak – to live.
So when Aza catches a glimpse of a ship in the sky, her family chalks it up to a cruel side effect of her medication. But Aza doesn't think this is a hallucination. She can hear someone on the ship calling her name.
Only her best friend, Jason, listens. Jason, who's always been there. Jason, for whom she might have more-than-friendly feelings. But before Aza can consider that thrilling idea, something goes terribly wrong. The sickness catches up with her. Aza is lost to our world – and found by another. Magonia.
Above the clouds, in a land of trading ships, Aza is not the weak and dying thing she was. In Magonia, she can breathe for the first time. Better, she has immense power – and as she navigates her new life, she discovers that war is coming. Magonia and Earth are on the cusp of a reckoning. In Aza's hands lies the whole of humanity – including the boy who loves her. Where do her loyalties lie? (Beschrijving achterkant)
Met dit boek was het love at first sight. Ik vond de cover zó mooi dat ik het boek gewoon moest hebben. De tekst op de achterkant sprak me niet enorm aan, maar het leek me wel oké, dus ik heb hem toch aangeschaft.
Magonia is een boek wat ik niet per se bij één categorie kan indelen. Het is niet contemporary, niet helemaal fantasy, en ook geen science-fiction, maar toch heeft het van alle drie wel iets. De vijftienjarige Aza heeft, al zolang als ze zich kan herinneren, moeite met ademen dankzij een mysterieuze aandoening aan haar longen. Zij weet, net als de mensen om haar heen, dat dit voor haar een vroege dood zal betekenen. Wat ze echter niet weet, is dat er haar na haar "dood" nog meer te wachten staat. Ze wordt namelijk getransporteerd naar het luchtrijk, ook wel bekend als Magonia, waar zij een belangrijke rol te vervullen heeft. Tijdens het lezen kwam ik erachter dat dit boek gebaseerd is op een (voor mij) redelijk onbekende legende: Magonia. Vroeger dachten mensen namelijk wel eens schepen in de lucht te kunnen zien. De legende beschrijft dit als Magonia, het rijk tussen de wolken. De schepen zorgen voor stormen op aarde en stelen de gewassen van de boeren op aarde. De schrijfster heeft hier uiteraard haar eigen draai aan gegeven, maar ik vond het heel tof om op deze manier kennis te hebben kunnen maken met een mythe die ik nog niet kende.
Maria Dahvana Headley heeft een hele aparte schrijfstijl, waarbij ze soms dingen aan de hand van bepaalde symbolen of typografie duidelijk weet te maken. Ook waren sommige stukken op een hele poëtische manier geschreven, waarbij ze veel gebruik maakt van beeldspraak. Zelf vind ik dit leuk gedaan en maakt dit het boek voor mij nog net iets levendiger, maar ik kan me voorstellen dat sommige mensen het misschien wat onrustig zullen vinden.
De schrijfstijl en het feit dat er gebruik werd gemaakt voor een relatief onbekend mythe maken voor mij veel goed in dit boek, want verder valt het wat tegen. Ik vind namelijk dat de schrijfster – zeker bij alles wat over Magonia ging – af en toe best vaag is in haar beschrijvingen. Ik vond het af en toe moeilijk om er echt een beeld van te vormen in mijn hoofd, waardoor veel dingen een beetje aan me voorbij gingen. Dat vind ik erg jammer, want daardoor kon ik niet zo in het verhaal opgaan als ik graag had gewild.
Het enige wat ik eigenlijk wel goed uitgewerkt vind zijn de hoofdpersonages en vertellers, Aza en Jason, waarin ik me ook echt goed kon inleven. Maar het voelt alsof het verhaal voor de rest een beetje achter is gebleven in de ontwikkeling. Ik werd er niet (emotioneel) in meegesleurd en daardoor vind ik het gewoon echt minder goed als dat ik gehoopt had. Het komt gewoon niet binnen.
Ik vind Magonia een heel origineel boek, wat precies om die reden heel erg leuk is om te lezen. Het is alleen zó jammer dat er eigenlijk nog té veel verbeterpuntjes in zitten qua ontwikkeling en uitwerking van het verhaal zelf, anders had dit makkelijk een van mijn nieuwe favorieten kunnen zijn.
Liefs,