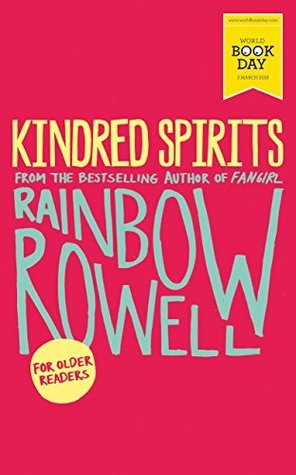 Auteur: Rainbow Rowell
Pagina's: 96
Genre: Young Adult, Contemporary
Publicatie: Macmillans Kids UK, februari 2016
Rating:

If you broke Elena's heart, Star Wars would spill out. So when she decides to queue outside her local cinema to see the new movie, she's expecting a celebration with crowds of people who love Han, Luke and Leia just as much as she does. What she's not expecting is to be last in a line of only three people; to have to pee into a collectible Star Wars soda cup behind a dumpster or to meet that unlikely someone who just might truly understand the way she feels. (Beschrijving Goodreads.com)
Een nieuw Rainbow Rowell boek, yeah! Uiteraard moest ik ook dit boekje meteen in mijn bezit hebben! Rainbow schreef Kindred Spirits naar aanleiding van World Book Day.
World Book Day is een initiatief van UNESCO. Ze hebben de dag in het leven geroepen om auteurs, illustrators, boeken en natuurlijk lezen in het zonnetje te zetten. Want zeg nou zelf, lezen is toch het allerleukste wat er is? Dat vond Rainbow dus ook! Voor haar een mooie kans om een leuke short story te schrijven.
Kindred Spirits gaat over Elena. Een die-hard Star Wars fan die natuurlijk als eerste de nieuwe bioscoopfilm wilt zien. Om als eerste vooraan te kunnen zitten bij de film, arriveert ze 3 dagen van tevoren en besluit ze, als een goede fan betaamd, dag en nacht te wachten tot de première. Ze hoopte op hordes nerdy fangirls die haar nieuwe beste vrienden zouden worden en waarmee ze tattoo's zou laten zetten! Alleen pakte het niet uit zoals ze had verwacht.
Het boek heeft niet heel veel diepgang en als je geen Star Wars fan bent kan ik begrijpen dat je dit boek misschien liever laat voor wat het is. Maar als je op zoek bent naar een (heel) kort uitstapje is dit precies wat je nodig hebt. De karakters zijn, wat je van een Rainbow Rowell boek verwacht, heel eigen. Ze hebben een sterke persoonlijkheid. Ja, zelfs in dit dunne boekje leer je de karakters door en door kennen.
Ik had dit boek in maar liefst 2 uur uit, dus als je je reading challenge een boost wil geven is Kindred Spirits perfect. Maar vergeet vooral niet om te genieten van het lezen, daar is hij namelijk voor geschreven.
'Everybody likes everything these days. The whole world is a nerd.'
Liefs,
[bol_product_links block_id="bol_570e9b8bc17e1_selected-products" products="9200000051770373″ name="kindred spirits" sub_id="" link_color="003399″ subtitle_color="000000″ pricetype_color="000000″ price_color="CC3300″ deliverytime_color="009900″ background_color="FFFFFF" border_color="D2D2D2″ width="250″ cols="1″ show_bol_logo="undefined" show_price="1″ show_rating="1″ show_deliverytime="1″ link_target="1″ image_size="1″ admin_preview="1″]