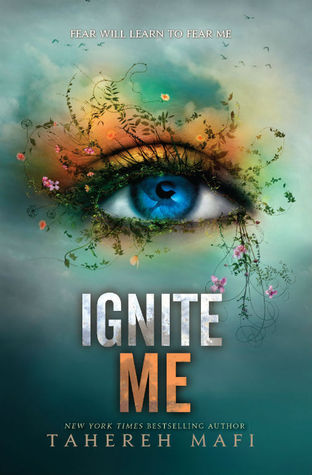 Auteur: Tahereh Mafi
Pagina's: 408
Genre: Young Adult, Dystopian, Fantasy
Publicatie: Harper Collins, februari 2014
Rating:

Everyone Juliette cares about may be dead. Now Juliette is the only one standing in The Reestablishment's way. But to take them down, as well as Anderson, the man that nearly killed her, Juliette needs the help of the one person she never thought she could trust: Warner. And as they work together, Juliette will discover that everything she thought she knew – about Warner, her abilities, and even Adam – was wrong. (beschrijving achterkant)
In december had ik van mijn Secret Santa dan eindelijk het slotdeel van deze fantastische serie gekregen! In het vorige deel, Unravel Me, stonden de eerste paar hoofdstukken van dit boek al. Nadat ik die gelezen had was ik eigenlijk alleen maar nóg nieuwsgieriger naar hoe het met iedereen af zou lopen!
Daar kreeg ik in dit deel uitgebreid antwoord op! Er worden veel eindjes aan elkaar geknoopt in dit deel en de ontwikkelingen zijn erg spannend en interessant. Wat ik een van de meest fantastische ontwikkelingen vind is die van Juliette. In mijn vorige review zei ik al dat ze niet meer dat bange meisje uit deel één was, maar nu is daar zo ongeveer niets meer van over. Ik houd daarvan! Iemand die uiteindelijk leert om – na een aantal grote tegenslagen – toch stevig in haar schoenen te staan.
Het enige wat ik eigenlijk écht jammer vind is dat einde niet echt voelt als een einde. Voor mijn gevoel zit je nog midden in het verhaal en dan ineens is het afgelopen. Het voelt niet afgerond, ik wil weten wat er nog meer gebeurt! Voor mijn gevoel zou er onderhand nog een boek achteraan moeten komen met alle antwoorden op de vragen die dit einde bij mij opriep. Dat is jammer, want de rest van het boek zit zo goed in elkaar.
Al met al is het een prima slotdeel van een fantastische serie, maar voelde het op het einde voor mij nog niet alsof het al echt af is.
Liefs,
PS: Dit boek is ook in het Nederlands verkrijgbaar bij Blossom Books! De Nederlandse titel is 'Vertrouw Me'.
[bol_product_links block_id="bol_56a4ed064d911_selected-products" products="9200000027000235,9200000016163448,9200000019552101,9200000042906562,9200000023778524″ name="Ignite Me" sub_id="" link_color="003399″ subtitle_color="000000″ pricetype_color="000000″ price_color="CC3300″ deliverytime_color="009900″ background_color="FFFFFF" border_color="D2D2D2″ width="250″ cols="1″ show_bol_logo="undefined" show_price="1″ show_rating="1″ show_deliverytime="1″ link_target="1″ image_size="1″ admin_preview="1″]