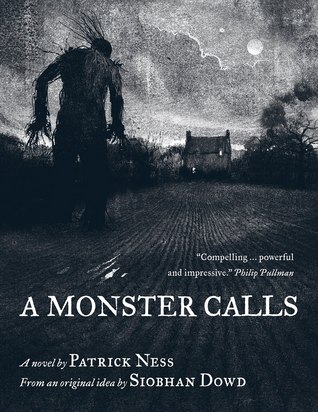 Auteur: Patrick Ness
Pagina's: 216
Genre: Horror, Fantasy, Young Adult
Publicatie: Walker Books, mei 2011
Rating:

The monster showed up after midnight. As they do.
But it isn't the monster Conor's been expecting. He's been expecting the one from his nightmare, the one he's had nearly every night since his mother started her treatments, the one with the darkness and the wind and the screaming…
This monster is something different, though. Something ancient, something wild. And it wants the most dangerous thing of all from Conor.
It wants the truth. (beschrijving Goodreads.com)
"You do not write your life with words. You write it with actions. What you think is not important. It is only important what you do."

Dit boek staat vol met prachtige quotes, maar dit was één van mijn favorieten. De boodschap van de quote, nouja, beter gezegd het boek, is best zwaar. Als je er vanuit ging dat het een horrorboek voor kinderen was, dan kom je behoorlijk bedrogen uit (ik heb het nu vooral over mezelf). Dit was alles behalve een light-read.
Het boek gaat over de 13-jarige Conor die een moeilijke tijd doormaakt. Zijn moeder is ernstig ziek en de medicijnen slaan niet aan, zijn klasgenoten pesten hem en na de scheiding van zijn ouders heeft hij zijn vader nauwelijks gezien. De enige persoon waar hij bij ondergebracht kan worden is zijn oma, aan wie hij een hekel heeft. Op een nacht krijgt hij een nachtmerrie, denkt hij, want in werkelijkheid staat het monster gewoon naast zijn slaapkamerraam. De reden waarom het monster hem heeft opgezocht blijft een raadsel. Het enige wat hij van hem wilt is dat hij luistert naar de drie verhalen die het monster te vertellen heeft en dat Conor aan het einde zijn eigen waarheid vertelt. Maar naar welke waarheid is het monster op zoek?
Het verhaal begint meteen al heftig. Je leest over Conor's situatie en dat grijpt je meteen aan. Ik moet wel bekennen dat ik in het begin een beetje in de war was. Ik had werkelijk geen idee waar het verhaal naartoe zou gaan en to be honest, een monster dat overdag eigenlijk een boom naast je slaapkamerraam is klinkt ook niet heel erg realistisch. Een beetje open-minded moet je dus wel zijn.
Soms was het me allemaal nog te vaag en langdradig, op die momenten heb ik mezelf erop betrapt dat ik naar de paginanummers keek om te kijken hoe veel bladzijdes ik nog moest. Maar dankzij de schrijfstijl van Patrick Ness (waar ik na de Chaos Walking trilogie echt verliefd op ben geworden, niet op Patrick maar op zijn schrijfstijl!) kom je er uiteindelijk redelijk goed doorheen. Ook omdat de spanning oploopt; Conor's moeder wordt steeds zwakker en de nachtmerries en pesterijen steeds heftiger. De emoties lopen hierdoor razendsnel op en ik heb regelmatig een paar traantjes moeten wegpinken.
Het einde kwam voor mij niet heel onverwacht. Je ziet het al een beetje aankomen, maar desalniettemin kwam hij alsnog keihard aan. A Monster Calls was dus absoluut niet wat ik ervan had verwacht. Het is geen 'normale' horror, of nouja, niet de horror die je zou verwachten. Heeft hij me teleurgesteld? Een beetje, maar hij heeft absoluut een indruk achtergelaten.
Liefs,
[bol_product_links block_id="bol_562cf5817de69_selected-products" products="9200000006903509,1001004011697412″ name="a monster calls" sub_id="" link_color="003399″ subtitle_color="000000″ pricetype_color="000000″ price_color="CC3300″ deliverytime_color="009900″ background_color="FFFFFF" border_color="D2D2D2″ width="250″ cols="1″ show_bol_logo="undefined" show_price="1″ show_rating="1″ show_deliverytime="1″ link_target="1″ image_size="1″ admin_preview="1″]