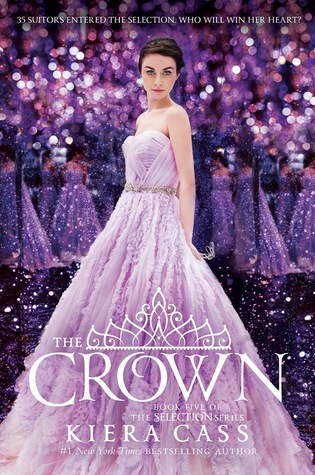 Auteur: Kiera Cass
Pagina's: 288
Genre: Young Adult, Dystopia, Romance
Publicatie: HarperCollins, mei 2016
ISBN: 9780062458865
Rating:

A Selection can only have one winner. A princess only has one heart.
When Eadlyn became the first princess of Illéa to hold her own Selection, she didn't think she would fall in love with any of her thirty-five suitors. But as events at the palace force her even further into the spotlight, Eadlyn realizes that she might not be content remaining alone.
Eadlyn still isn't sure she'll find the fairy-tale ending her parents did twenty years ago. But sometimes the heart has a way of surprising you… (Beschrijving achterkant)

Ik was zo blij toen The Crown eindelijk op de mat viel! Na de enorme cliffhanger van het vorige boek móest ik gewoon weten hoe het verder ging met mijn favoriete koninklijke familie. Hoewel dit boek, net als het vorige deel, niet dezelfde magie had als de eerste drie boeken van de serie, vond ik het alsnog heerlijk om me weer in Illéa te wanen.
In het vorige boek vond ik Eadlyn echt een kreng, maar daar viel ook al te merken dat ze, vanaf het moment dat ze zich daar bewust van werd, er ook hard aan werkte om dat te veranderen, al was dat misschien niet helemaal uit eigen belang. Deze verandering zette zich voort in The Crown en ik vond het heel leuk om te zien hoe een krengering, verwend prinsesje veranderde in een volwassen vrouw. Langzaam leerde ik steeds een beetje meer van Eadlyn te houden.
Het enige wat ik jammer vond was dat alles zo ontzettend snel leek te gaan. Het boek is maar 240 pagina's lang, wat natuurlijk niet heel erg dik is. Maar het leek alsof Kiera in zo weinig pagina's zoveel wilde laten gebeuren dat er niet echt ruimte was om echt uitgebreid aandacht aan dingen te besteden. Het voelde een beetje afgeraffeld en dat is gewoon jammer. Ik was namelijk heel blij met hoe het afliep, maar het voelde allemaal een beetje alsof het uit het niets kwam en er dus niet echt naartoe werd gewerkt.
Ik heb dus het idee dat er zoveel meer uit dit boek gehaald had kunnen worden als het niet zo was afgeraffeld, en dat viel dus een beetje tegen. Maar ondanks dat vond ik het zeker geen slechte afsluiter van de serie en ik vind het nu dan ook oprecht jammer dat het afgelopen is!
4 sterren
Ik was blij toen mijn copy eindelijk op de mat lag. Ik begon er dan ook gelijk aan. The Selection is één van die series die ik blijf herlezen. Zeker als ik een dipje heb halen America en Maxon me eruit. Ik was dan ook super blij toen ik van Kiera hoorde dat we nog 2 boeken zouden krijgen. In The Heir irriteerde Eadlyn me een beetje, maar ik was zo blij met een vervolg dat het me niet veel uitmaakte, wel moest ik echt wennen aan haar stem.
The Crown daarentegen vond ik tegenvallen, misschien omdat ik gehoopt had op meer. Begrijp me niet verkeerd, het is een prima einde, maar niet het kaliber dat ik van Kiera Cass gewend ben. Het was tof te zien hoe ze opgroeide, en veranderde in een goede ruler. Sommige verhalen van de elite waren heel tof en ookal had ik persoonlijk graag een andere keuze gezien had ik hem al van mijlen ver aan zien komen. Ook vond ik het einde wat abrupt.
Waar ik een beetje last van heb is denk ik ook waar ik met The Hobbit last van had. Die had niet in drie films maar in twee gekund en gehoeven en The Heir en The Crown hadden hier samen in één boek gemoeten. Maar dan hadden we maar één prachtig cover gehad ipv twee, en wat is hij weer mooi. Helaas moeten we vanaf nu zonder deze geweldige karakters en amazing covers leven, nieuwe dan in ieder geval. Toch ben ik wel blij dat ik hem heb gelezen.
3,5 sterren
Heb jij De Kroon al gelezen?
Liefs,
[bol_product_links block_id="bol_5750007ac7c9b_selected-products" products="9200000057345469,9200000049866165″ name="De Kroon" sub_id="" link_color="003399″ subtitle_color="000000″ pricetype_color="000000″ price_color="CC3300″ deliverytime_color="009900″ background_color="FFFFFF" border_color="D2D2D2″ width="250″ cols="1″ show_bol_logo="undefined" show_price="1″ show_rating="1″ show_deliverytime="1″ link_target="1″ image_size="1″ admin_preview="1″]